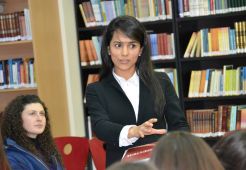 Marlise Sanchez Torres, a specialist in the field of education, held the first workshop with the students of the Department of Educational Sciences within the cycle of seminars that will be developed as a project for the professional development of students.
Specialized in different countries of the world as Costa Rica and Japan, Ms. Torres ways of injecting the culture of I can do in the classroom settings.
The seminar focused on explaining the techniques that help a teacher to build self-esteem as part of the child's personality in the teaching process. The teacher should bear in mind that the foundation of the education of the child must be optimism and a desire to move forward and not to be discouraged despite the errors or the challenges they face.
According to Ms. Torres some of the most influential techniques in teaching are: Formation of a friendly environment in the classroom where mistakes are acceptedand learning from them is promoted , encouraging curiosity in children, giving them freedom in the choice in topics that interest them, provide them with the opportunity to express themselves which will develop the ability to discuss, engaging parents in teaching curricula, teaching classes in close connection with the everyday experience of the students etc.
The event continued with the questions which led to lengthy discussions between Ms. Torres and education science students at the university.
Foto Gallery
https://www.facebook.com/media/set/?set=a.1033926429955335.1073741958.270663142948338&type=1